Category Archives:
Busts
Embed from Getty Images

Currently, DeMarco Murray is being drafted at his fantasy ceiling. As you can see below he is being drafted in the early second round or as the RB7. This is typically something I look to avoid, as I always want to maximize a players ceiling and avoid capping it. By doing this we have an easier time generating value in a player and lowering the risk of a bust. Let me explain this a bit further.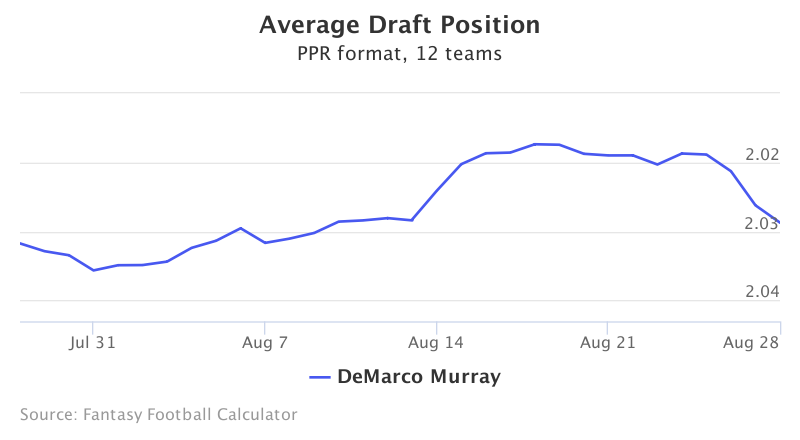 When drafting a player at his ceiling, you are essentially taking added risk that he doesn't live up to his cost. If you believe that such players output can only achieve a certain amount of fantasy points, then giving a quick glance at current ADP's can help determine his ceiling. The reason it's risky to draft a player at his ceiling, is you have no wiggle room for unforeseeable circumstances. The instance here with Murray is that there is a very obvious situation looming about, and I will dive into this here.
The first thing that should worry us when we look at DeMarco's 2016 splits, is the obvious drop off in fantasy points per game. From week 1 to 8 Murray averaged 21.41 FP/G (PPR) and in the remaining eight games Murray's fantasy production took a big plunge. His average dipped 6.4 points down to 15.01 FP/G (PPR) average.
Looking over this it should be clear that he was trending down in the last eight weeks of the season. Not only did his yards-per-carry depress from 4.73 to a 3.99 average, his volume started to dissipate as well. In the first eight weeks, we see that Murray toted the rock an average of 20 times and also caught 3.5 passes per game. Second half his total touches dropped from 23.5 to 19.74, might not look significant but digging a little deeper we can start seeing a clear trend.
I went ahead and looked at the weeks where Derrick Henry missed (week 9 & 11) and subtracted Murray's touches out of this equation. The outcome of this showed Murray's touches dropped even further down to 18.83 per game. Using the games Henry missed we can go back to the original point of clarity. His fantasy outcome looked even worse at a staggering 13.68 FP/G. This would equate to 218.88 fantasy points for a 16 game stretch. Netting him a ceiling of RB11 in point per reception leagues.
Everything listed above is just the start of why you shouldn't draft DeMarco Murray. I've laid out facts that Murray's ceiling may well be RB11 and that it's clear he is being over drafted at RB7. You also still have to worry about Murray's lingering hamstring issue and Derrick Henry lurking in his shadow. These are all reasons I will not be drafting DeMarco Murray in 2017.
To me a fantasy Bust is someone who is drafted to high and does not live up their expected ADP. When I am trying to find a bust, it might not be because of the player. A lot of times a bust will derive from a coaching change, a contract dispute, or a team trending in the wrong direction. This is my list of Bust's!
Jamal Charles, RB, Chiefs:
Yes I know this might sound crazy, but let me tell you why I think one of the most talented running backs in the league will be a bust! First off the running back position changes dramatically year to year, making it very difficult for a player to repeat as the number one in this position. Charles lost three starting lineman, making his o-line one of the worst in the league. That accompanied by an offense that can't attack you deep or spread the defense, will only create more problems for Charles. As defenses will key in on him, he will face eight in the box all year long. If that's not bad enough he has one of the toughest strengths of schedules for running backs. He is currently being drafted as a top two pick, and he will not live up to that expectation this season.
Marshawn Lynch, RB, Seahawks:
Another star running back from last season lands on my list. I love "beast mode", but this year I do not want him on any of my teams. He has contemplated retirement, and now is in the middle of a holdout. These are two giant red flags when you are talking about spending a valuable pick on a key player. Seattle is not going to pay him what he wants and I honestly don't see him playing this year. Pete Carol knows that he has other running backs in the stable and is more than prepared to roll with them. Throw in the amount of workload he has received the last three seasons (almost 1,100 touches), and I will be passing on him all day long.
Update 7/31: Lynch is back in camp after retooling his contract this year. He still is on my bust list however for the reasons stated above.
Andre Johnson, WR, Texans:
This is one of the most talented players in the league, and all this guy wants to do is win. Houston does not give him this chance, Johnson is fully aware and wanted out this off-season. The Texans refused to trade him, and here we are with a humble but disgruntled player who I question his motivation for this season. Factor in all the changes and Gary Kubiak a man who force fed Johnson for many years not in Houston anymore, I will be avoiding Andre at his current ADP.
Jordan Cameron, TE, Browns:
How quickly things can change, one of my prized sleepers of last season now lands on my bust list. Cameron finished last season catching 80 balls for 917 yards and seven td's. Those numbers where good enough to rank him 5th among the position. There were two men responsible for his huge increase in stats, Norv Turner and Rob Chudzinski. Both who are out of Cleveland this season. Although the numbers look good on paper, he had a very inconsistent year, finishing the season on a downswing. I would fully expect Cameron's stat line to dramatically decrease despite being the number one target for the Browns this season.